Path to Salvation
Plan of Salvation
We are saved by grace through our faith in Jesus Christ but just how do we exercise our faith so as to arrive in that saved state? The Bible provides us a step by step "map". Just to keep it simple, We'll list each individual step in order.
HEAR to Gospel: (Romans 10.17) "Consequently, faith comes from hearing the message, and the message is heard through the word of Christ."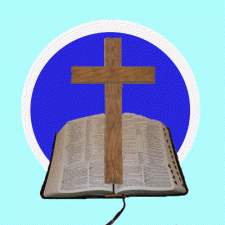 BELIEVE Jesus is the Christ, the Son of God: (Acts 16.31) "They replied, 'Believe in the Lord Jesus, and you will be saved…'"
REPENT from sin: (Acts 2.38) "Peter replied, 'Repent and be baptized, every one of you, in the name of Jesus Christ for the forgiveness of your sins. And you will receive the gift of the Holy Spirit.'"
CONFESS your faith in Jesus: (Romans 10.9-10) ""That if you confess with your mouth, 'Jesus is Lord,' and believe in your heart that God raised him from the dead, you will be saved. For it is with your heart that you believe and are justified, and it is with your mouth that you confess and are saved."
Be BAPTIZED by immersion into Christ: (Mark 16.16) "Whoever believes and is baptized will be saved, but whoever does not believe will be condemned." (Romans 6.4 re: immersion) "We were therefore buried with him through baptism into death in order that, just as Christ was raised from the dead through the glory of the Father, we too may live a new life."
REMAIN FAITHFUL: (I Corinthians 15.58) "Therefore, my dear brothers, stand firm. Let nothing move you. Always give yourselves fully to the work of the Lord, because you know that your labor in the Lord is not in vain."
If we can assist you in completing your obedience to the gospel by taking your confession of faith and baptizing you into Christ, come be with us at Licking Christian Church. If you live elsewhere, contact us and we will help you find faithful Christians near you who will be glad to help you.
All Scripture references are from THE HOLY BIBLE, NEW INTERNATIONAL VERSION. Copyright 1973, 1978, 1984 by International Bible Society. Used by permission of Zondervan. All rights reserved.